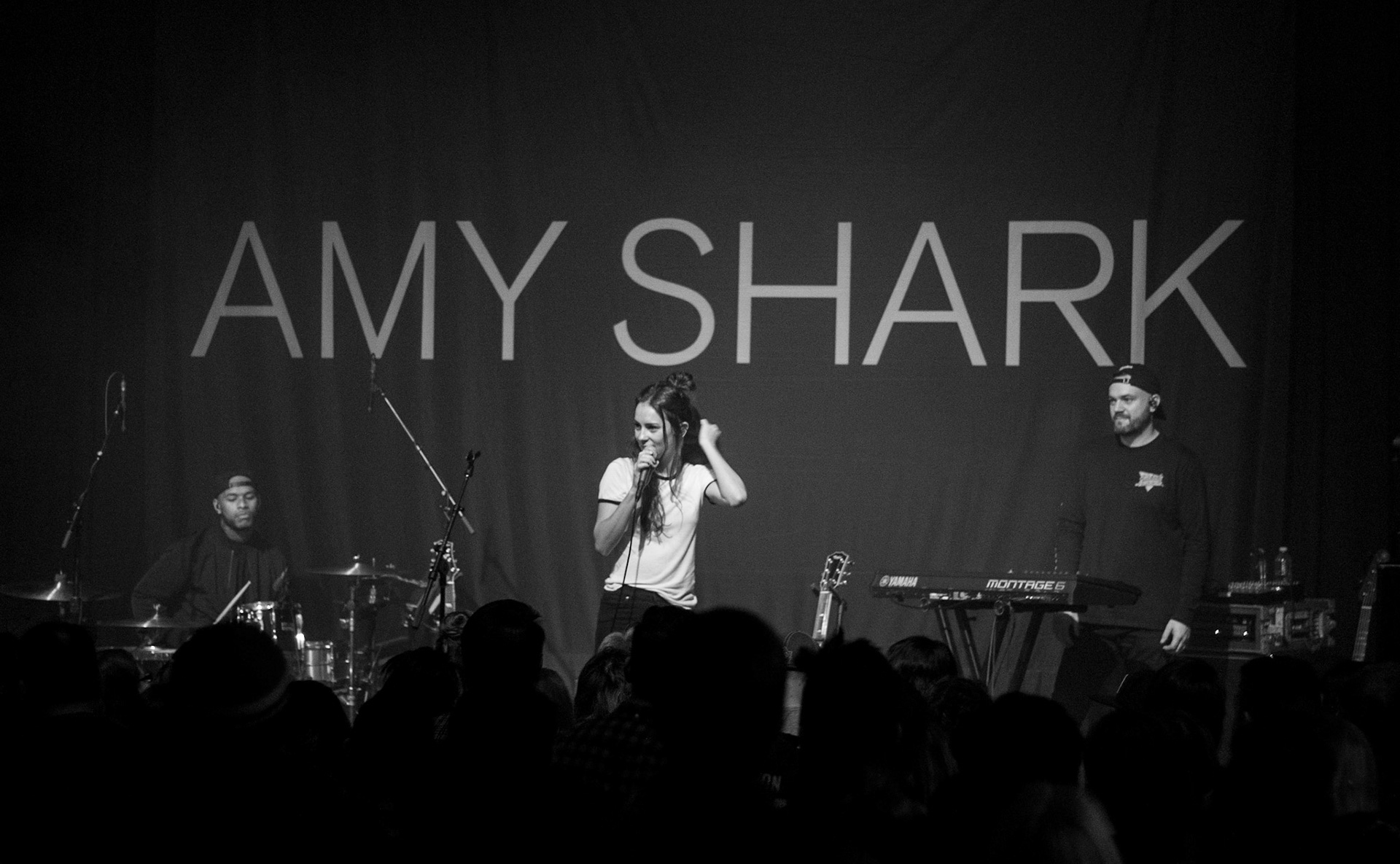 Currently on an 18 date North America tour across 23 days (including 4 sold out shows), followed by a European tour, Amy Shark has certainly had a busy start to 2018, already having toured with Australia's Laneway Festival to high acclaim.
It was just over two years ago, that Amy Shark's indie ballad, 'Adored', stormed in at Number 2 on Triple J's Hottest 100, promptly followed by commercial radio success in Australia and abroad, peaking at number 3 on the ARIA charts, and winning two ARIA Music Awards in 2017.
In January this year, Amy confirmed she was in the studio, working with none other than Blink 182's front man, Mark Hoppus, sharing her excitement on social media. This comes after her praises were sung by pop punk icon, and former Blink member, Tom DeLonge, declaring on Instagram "I had the pleasure meeting Amy Shark @amysharkmusic and her husband Shane. Two great people that supported me throughout all of my musical adventures. Now, after a decade of (largely unnoticed) work, she has exploded and #1in Australia. A synth-pop blend of Indie-Rock and Emotion, I could not be happier for her and her husband, who is her number one fan!.... Do more than follow her, buy her music".
I caught Amy Shark's show just over half way through her North America tour, at Lincoln Hall, Chicago. This stunningly beautiful venue was the perfect setting for an intimate Amy Shark experience on an icy, Chicago evening, in an area full of historic homes and epic tree lined avenues.
Opening for the evening was Milck, a multi-instrumentalist singer songwriter from Los Angeles. Milck's poetic and cathartic approach to her art form left the filled room entranced. She commanded attention, and the audience listened to her every word. Being born to Chinese immigrants, Milck gave intimate details of her childhood, how she found the power to achieve her dreams, and how her parents were keen on her to be a "physician, not musician". Her effortless, haunting, yet soothing, vocals were rooted in truth, and simply flawless. On speaking with many of the audience, I found most had not heard of Milck before this evening – at the end of the set, I am certain they spent their trips home on Spotify and social media, connecting with this inspirational and powerful young woman.
The now packed room, both on the floor and balcony encasing the entire top level, was full of an audience anticipating a memorable evening. And they were not to be disappointed.
I chatted with a few audience members before the show, understanding how they came to discover this Aussie gem from the Gold Coast. One woman saw Amy Shark supporting the Bleachers in 2017 and instantly fell in love with her honest and emotional indie pop vibe. Two young medical students arrived as soon as doors opened to secure their prime position front of stage. They both relate to Amy Shark's tales of fitting in, love, empowerment and being a strong, independent woman. Two couples had friends in Australia who introduced them to her music. Ages, backgrounds, life experiences – the audience was very varied but were brought together through shared life experience that relate to Amy's lyrics.
Amy Shark entered the stage to massive applause. Amy's effortless beauty was on fully display, with her signature flowing, surfie brunette mane with loose top knot, tight black jeans, white Adidas T and jacket, all coupled with her genuine and warm smile.
She thanked Chicago for the opportunity to perform in this beautiful city and to the audience for supporting her. Amy explained it was going to be an emotional evening and she delivered just that. The authenticity and openness of her performance created an immersive experience. Amy engaged intimately with the audience, talking through the backgrounds of her lyrics and walking us through a journey of loss, love, hurt, confusion and triumph. Amy's ability to deliver positivity through her words was simply captivating.
The one hour set, was a journey that walked through the Night Thinker EP, along with a taste of a new acoustic ballad (to which she explained her manager asked her not to play new songs, with her response being "Well I say f*ck it"), and an Eminem cover, to the Chicago crowd's delight. Amy closed out the evening with her massive hits 'Weekends' and 'Adored'.
On closing, Amy said she would be at the merchandise counter to say hi to anyone that wants to come by. Fans did not miss this opportunity and lined up for over an hour to have a moment with her.
Later that evening, Amy Shark announced via social media that she would be playing on The Tonight Show with Jimmy Fallon the following week, on March 13, the same day as her sold out show at the Bowery Ballroom in New York City. This sums up where 2018 is headed for Amy Shark, and the only way is up.
Amy Shark is a strong, powerful role model who has a unique ability to captivate and empower those fortunate enough to listen to her work. She wears her heart on her sleeve with a positive and honest energy. And the world is waiting in anticipation on the release of her new music.